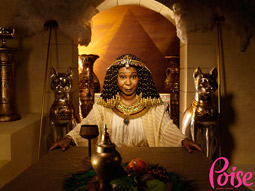 It's estimated that there are 200 million people around the world with some form of urinary incontinence, and 25 million of them are Americans.  Urinary incontinence (UI) is more prevalent in women than men; the National Association for Incontinence estimates that 75%-80% of UI patients in the United States are women.  UI can happen to women of any age, and it doesn't discriminate.  Did you know that there are some female celebrities that are open about their personal experiences with urinary incontinences?  When you finish reading this post, you'll see that UI in women is a lot more common in the rich and famous than you think.
When Whoopi Goldberg became a spokesperson for Poise medical products in 2011, she was very open about her personal experience with urinary incontinence.  The Academy Award winning actress, comedian, and talk show host chooses to use humor to talk about her incontinence issues.  If you watch the video in the link that's posted, you'll hear about what Whoopi has to say about this prevalent woman's health issue.  At around the 2:00 mark, Whoopi is asked why she thinks it's important to raise awareness about urinary incontinence.  The beginning of her answer reflects reveals that she wants women to be comfortable enough to talk about this common issue:
"Because it's one of those things that we should be able to say, 'Hey, does this thing happen to you?'"
Kris Jenner is famous for her marriage to  lawyer Robert Kardashian who worked on the O.J. Simpson case, her reality show Keeping Up with the Kardashians and its spin-offs, and her work in the entertainment industry.  It's estimated that Jenner is worth $20 million, and this eight-figure earning woman recently started spreading the word about female incontinence issues.  Like her fellow entertainer Whoopi Goldberg, Jenner was a part of Poise's 2011 add campaign.  Jenner had this to say about her personal experience with urinary incontinence:
"Like millions of women, I have my own experiences with LBL (light bladder leakage), but I've never let it keep me from living life to the fullest," said Kris. "Inspired by the impact that last year's 'Great Women in History' series had on women with LBL, I've teamed up with the Poise brand to help women understand that LBL is common and manageable so it shouldn't stop them from doing great things and being the incredible and accomplished women they are."
Marie Osmond started in the entertainment business with her brother when she was only a teenager, and after decades of being in the spotlight she's still performing for her fans.  When Marie was performing with her brother on a cruise to the Bahamas, she had a bout with stress incontinence when she was on stage.  Marie reported being slightly embarrassed, but according to her brother she soon embraced it and laughed it off.  The incident goes to show you that even superstars can have incontinence problems at inconvenient times.