Diaper rash is a generalized term indicating any skin irritation that develops in the diaper-covered region; it can happen to anyone who wears diapers – babies or adults. Diaper rash can be extremely uncomfortable, so we have some tips for caring for your skin while wearing adult diapers & briefs.
Change diapers often to avoid too much moisture and irritants that are in contact with the skin.
Clean skin and all creases that may be present gently with mild soap and water, no-rinse cleaners, or similar products, remove all soap residues, and gently pat dry. Avoid using harsh soaps that can alter the skin's pH with frequent use.
Pre-moistened skin wipes provide skin cleaning and moisturizing benefit while away from home or traveling.
Apply a barrier cream to area, which will provide durable, long-lasting protection from body fluids while moisturizing the skin.
Barrier creams products should be applied according to the manufacturer directions or after each incontinent episode and cleaning.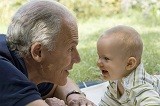 Follow these tips and we hope you will avoid diaper rash. We're making it even easier to care for your skin with a free sample of 3M™ Cavilon™ Durable Barrier Cream with any order ofincontinence supplies or discount diapers online. For a limited time, use coupon code: CAVILON to receive your free sample today.